Haxton In Hollywood: 1960-1963
Playing With Dolls
Harold worked with noted stop-motion animator Lee Baxterhaven from 1960-1963. The Wet Ones, Green Doom, and Wandering Eyes featured his clay models. Lee and Harold had a tenuous relationship...both were frequently misunderstood and temperamental artists. During the shooting of Green Doom, Haxton said something to the effect of "I don't play with dolls," to Baxterhaven, who promptly stormed off the set.

To appease Lee, Haxton showed up the next day with a large teddy bear in the front passenger seat of his Studebaker. He carried the bear around the lot all day, and it sat in his director's chair while Harold served it some imaginary tea. "All with a straight face," commented cinematographer Arlen Ford. Baxterhaven found it difficult to keep his grudge after that.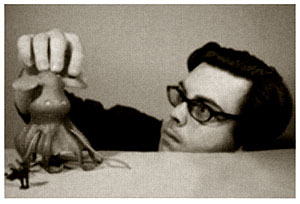 Animator Lee Baxterhaven at work on It Came From Quebec, 1954 (LA Sentinel photo)
While filming Wandering Eyes in 1963, Haxton thought one of Lee's painstakingly carved clay models needed a bigger head. He nonchalantly spit out and added a wad of chewing gum to the creature...shooting proceeded as usual. Baxterhaven was appalled -- Wandering Eyes would be the last film Haxton made with Lee, who refused to work with him ever again.
The Many Moods Of Harold Haxton
Haxton's former wife, Marion, on his legendary temper:
"One night -- I think it was during the filming of Mars Needs Gravy! -- Hax just didn't come home. I wasn't too worried until I got a call from the police around 3 a.m. Hax was up in Griffith Park on the "Hollywood" sign. He was apparently sitting up in the crook of the "y" with a bottle of gin, and the cops were afraid he was going to jump. So of course I called Arlen [Ford], because if there's anyone who can talk Hax out of something, it's Arl. The call went a bit like this:
Me: "Arlen, hey sweetie, sorry to wake you...it's Marion. Hax is up in the Hollywood sign."
Arlen: "What? Why?"
Me: "Yes, he's right up there in the middle of it, drunk as a skunk."
Arlen: "Oh..."
Me: "No, the 'Y'. I need you to come talk him down."
It was kinda like a Laurel and Hardy routine, now that I think of it.
Anyway, Arl drove up the hill in his pajamas and talked Hax down. Unfortunately, being so drunk, poor Harold wasn't able to climb down neatly...he pretty much bounced down the scaffolding like a dead monkey fallin' out of a tree.
He was pretty well banged up and angry at me for dropping the dime on him, though he forgot most of it by the next morning. But after that little incident, he always used to joke that Arlen was the only one who could ever convince him to get out of Hollywood." NEXT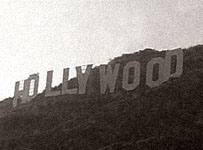 The "Hollywood" sign
[ 1953-1957 ] [ 1957-1959 ] [ 1960-1963 ] [ Toga! Toga! ] [ 1964 -??? ]

[ early years ] [ hollywood ] [ interviews ] [ filmography ]
[ film poster gallery ] [ photos ] [ email ] [ home ]

copyright 2001 phobe.com