The Early Years
Growing Up Haxton
Harold Beauregarde Haxton was born March 21,1924 to Wallace and Sheba Haxton of Dayton, Ohio. Sheba McGreavy was a former showgirl-turned-high school Latin teacher. She spent a short time in Hollywood as a chorus-line dancer during the silent film days, but a bad knee forced her to return to her Ohio hometown. Falling back on her expertise in Latin language and early Roman history, Sheba went to work as a Latin teacher at Dayton's Meadowdale Elementary School. Harold later recalled that his early exposure to Greek and Roman mythology inspired his lifelong interest in monsters...not to mention his odd fetish for wearing togas.

Sheba met Harold's father, Wallace, at a local flag pole-sitting contest (Wallace won the grand prize of a very chic raccoon-fur coat). The two were married in 1921, and two Haxton boys followed shortly thereafter, Rayford in 1922, then Harold two years later (Rayford was tragically killed serving in WWII). The family struggled to make ends meet, as Wallace Haxton was barely employed as an itinerant typewriter repairman.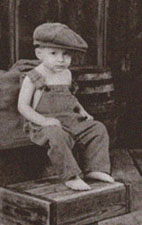 Little Harold, age 2
Haxton on his childhood:
"We always used to say Mother was responsible for making sure us kids could read what was written [in Latin] on our pocket change...but Pop was responsible for us not having any pocket change."
A Dream Begins
When Wallace Haxton left Harold's mother in 1931, he gave his youngest son a broken Underwood lacking the "d" and "q" keys. Harold used this treasured typewriter for twenty years -- indeed, his first scripts went out under the nom de plume "Harol B. Haxton", and it is under this name that The Mummy's Foot was first optioned by Panoramic Pictures. (Movie trivia: this script also happens to be the only script ever written without the use of the letters "d" and "q".)
Despite their poverty, Harold was always somehow able to scrounge up a nickel for a movie ticket. Much like other Americans who flocked to the movies during the Depression, he found the darkened theater a short-lived escape from his troubles. Haxton's early idols were directors of groundbreaking horror films: James Whale (Frankenstein, The Bride of Frankenstein, The Invisible Man), Tod Browning (Dracula, Freaks), and stop-motion pioneer Willis O'Brien (The Lost World, Son Of Kong)
His closest childhood friend was Arlen Ford, who later followed Haxton to Hollywood to become his cinematographer. Arlen was from a wealthy family (allegedly a distant cousin of automaker Henry Ford) and was responsible for lending Harold his first camera (Harold never did give the camera back). As roommates in Hollywood, Haxton later repaid Arlen by driving him everywhere he went. Oddly enough, the Ford descendant was terrified by cars and never got his driver's license. NEXT
[ early years ] [ hollywood ] [ interviews ] [ filmography ]
[ film poster gallery ] [ photos ] [ email ] [ home ]

copyright 2001 phobe.com