The Way To Hollywood
Vive le France!
At age 18, Harold left home to join the French Foreign Legion, serving in Tunisia. Although these years were a source of many colorful stories, he did not stay long, leaving the Legion before the end of World War II. He claimed to have been honorably discharged after developing an allergy to sand (this may have been true -- acquaintances recall that throughout his years in Los Angeles, Harold never once visited the beach).

Did Haxton indeed serve in the Legion? Or did he just flee the US when he became old enough for the draft? After all, his brother had just died a gruesome death serving in England -- one might not blame Haxton for being cowardly. But his friend Arlen Ford believed Harold's Legion stories, as did his wife, Marion. In fact, no one ever really voiced a doubt. Then again, Harold Haxton was the type of guy who could convince the Pope to dance cha-cha naked on a pool table.

Real or no, his experience in Tunisia would also influence his 1950 film The Mummy's Foot. The film starred James Claypool as a dashing Legion lieutenant based on Haxton himself. (Was Brendan Fraser's dashing legionnaire in 1999's The Mummy based on Haxton? As the French would say, "Oui, et des singes volera hors de mon ane.")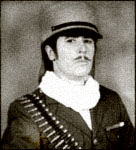 Harold Haxton in uniform. Dashing, eh?


Upon his return to the States, he joined a traveling circus: Warburton's Traveling Spectacular, serving in various roles as a clown, fire-eater, and elephant painter. In 1947, he arrived in Los Angeles. He joined his childhood friend Arlen Ford, who had been living for several years in nearby Glendale while establishing a fledgling career in movie production.

Haxton In Hollywood
Harold at first attempted to develop his clown experience into a career as a stand-up comic. An early routine involved a reject gorilla suit "borrowed" from RKO via his friend Arlen (then working as a junior editor on RKO's Mighty Joe Young ). After his comic act bombed miserably, they used the ape suit to film Haxton's first short horror feature, I Was A Monkey's Uncle.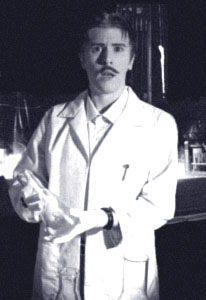 Haxton as Dr.Grimshaw in I Was A Monkey's Uncle



Harold wrote and starred in the film. He played a mad scientist whose simian experiments, combined with an affair with his brother's wife, have tragic results...his sister-in-law's baby rapidly becomes a giant, demented ape. Marion Mandeville played the brother's understandably terrified wife. Due to a lack of financing, Harold doubled up on roles, also playing the son/giant ape. The film wasn't supposed to be funny, but audiences were rolling in the aisles. Haxton happily bought a '41 Studebaker Champion with the movie's earnings, but swore that his next film would really scare people.

Not The Marion Kind
Haxton married starlet Marion Mandeville in 1953. Marion's real name was Earletta Sweetman...she claimed the stage name came from her lifelong Hollywood dream "to find herself a rich man and a Cadillac DeVille". She got Harold Haxton and a used Studebaker. Marion starred in all Haxton's early films.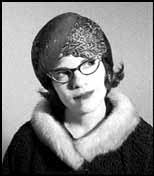 Marion Mandeville in a 1950's publicity shot


"I never thought I was the Marion kind," Harold joked, as he and Marion walked down the aisle at Little Chapel of the West on June 21, 1953. Just a bad pun, or a Freudian slip? The couple's Las Vegas honeymoon was made even more memorable as Hax accidentally spilled a drink on crooner Frank Sinatra. Haxton spent the rest of their stay cowering in their hotel room. Harold and Marion divorced amicably in 1957.

Arlen Ford on Haxton's divorce:

"Marion wanted to really settle down, have some kids...but Hax was way too scattered to have kids. He's the kind of guy who would have taken his kids to the dry cleaners and dropped his suits off at the elementary school. Making movies was his life, and pretty much the only thing that could keep his focus for any period of time. He had a mind like an Etch-A-Sketch."

Not long after their divorce in 1957, Marion married a brush salesman from Reseda and settled there. Two children followed shortly after. It had been an amicable divorce, and Hax remained a friend and doting "uncle". He always sent Marion's children generous Christmas presents, "...Usually something that made a lot of noise. Maybe that was his little way of getting back at me. One year it was a drum set, the next, toy accordions. I don't know if we'll ever forgive him for those goddamn accordions." Marion joked (?). NEXT



[ 1953-1957 ] [ 1957-1959 ] [ 1960-1963 ] [ Toga! Toga! ] [ 1964 -??? ]

[ early years ] [ hollywood ] [ interviews ] [ filmography ]
[ film poster gallery ] [ photos ] [ email ] [ home ]

copyright 2001 phobe.com